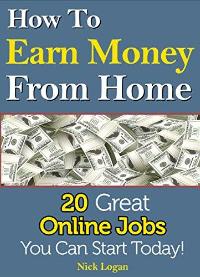 Today only, get this Amazon bestseller for just $0.99. Regularly priced at $4.99. Read on your PC, Mac, smart phone, tablet or Kindle device.
Isn't great to work from the comfort of your home or from the place you are feeling relaxed?
It is not great, but awesome! Today the online jobs have become a big trend and as the days pass more and more people are working online and getting great amount of money.
How much you want to say good bye to your boss? Well, your dream can come true, starting today! This book will give you a great insight of all kinds of online jobs you can start immediately.
– You will know if working online is really the best option for you personally

– You will discover what kind of online jobs are out there

– You will get 20 online job ideas you can start today

– You will learn how to choose the right one for you

– And finally you will get enough courage to say: 'Pleasure to work for you boss, I quit!'
"How to earn money from home is a great book, thank you Nick. I got an amazing idea for my online business! Yes, I will be my own boss – finally!!" (Ricky Mazzoni, UK)
Tags: How to earn money from home, online home business, best online jobs, online job ideas, home business