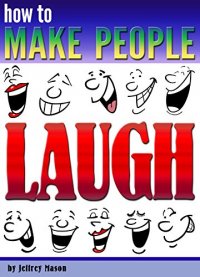 If you want to learn how to make people laugh, and improve your social life through the use of humor, then this book is for you!
Today only, get this incredibly useful guide for only $2.99. Regularly priced at $4.99. Read on your PC, Mac, smart phone, tablet or Kindle device.
One of the biggest misconceptions about being funny is that you are either a natural-born comedian or you can't tell a joke to save your life. The truth of the matter is that being funny is a talent, and like any other talent or skill, it can either be developed or neglected. Ask any stand-up comedian, and they'll likely have a story to tell you how their first few performances were absolute nightmares. They didn't know how to engage the audience, and they didn't yet have their timing and delivery all worked out. Even people who feel called to be funny, or who are perhaps naturally funny, still have much to learn about the nature of humor before it seems easy to them. In this ebook you'll learn the fundamental principles of good humor. You'll also learn how to summon the proper energy and charisma to keep people entertained and laughing. If you're ready to be the life of the party in a comfortable and easy way, then read on!
Here Is A Preview Of What You'll Learn…
How to Pleasantly Upset Your AudienceDon't Be Afraid to Be Un-funnyTiming and DeliveryWhere to Get (and Not to Get) New MaterialTapping into a Continuous Stream of LaughterThe Man with the Funny ReputationMuch, much more!Download your copy today!
Tags: different types of humor, how to improve sense of humour, how to improve sense of humor, how to be funnier, how to make people laugh, sense of humor, how to be funny, sense of humour, how to make someone laugh, what makes people laugh, how to be humorous