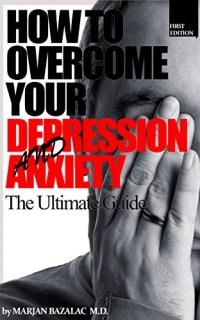 How To Overcome Your Depression And Anxiety: The Ultimate Guide
Today only, get this Kindle book for just $0.99. Regularly priced at $4.99. Read on your PC, Mac, smartphone, tablet or Kindle device.
You are about to discover something truly amazing in this book! Depression is a mood disorder that causes a persistent feeling of sadness and loss of interest. Also called major depression, major depressive disorder or clinical depression, it affects how you feel, think and behave and can lead to a variety of emotional and physical problems. You may have trouble doing normal day-to-day activities, and depression may make you feel as if life isn't worth living.
More than just a bout of the blues, depression isn't a weakness, nor is it something that you can simply "snap out" of. Depression may require long-term treatment. But don't get discouraged. This amazing book will help you overcome this nasty disease and have a healthy happy life you deserve.
Here's a preview of what you'll learn…
Meaning of "Depression and Anxiety"
Similarity Between Anxiety And Depression
Types of Depressions And Self Help
Understanding Your Depression
Improving Your Life
Developing Healthier Habits
Types of Anxiety
What causes depression?
Take action right away to prevent and cure depression and anxiety today by downloading this book, for limited time discount of only $0.99!
Tags: depression, stress, anxiety, guide, happiness, depressed, love