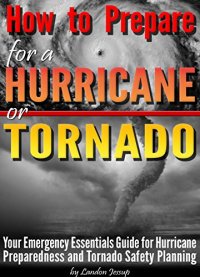 Free on 29th Jun 19 - 3rd Jul 19


No reviews yet.
If you want to be sure you're properly prepared for the next big hurricane or tornado, then this book is for you!
Today only, get this incredibly useful guide for only $0.99. Regularly priced at $4.99. Read on your PC, Mac, smart phone, tablet or Kindle device.
We live in a very beautiful world, complete with lush forests, sparkling rivers, majestic animals and bold mountains. But in all this beauty is Mother Nature's ugly side. Storm preparedness is crucial, especially for the two natural disasters that cause the most damage in the US: tropical storms and tornados. Tornados frequently ravage through the Midwest, causing billions of damages every year, but they can happen just about anywhere. Being prepared takes into account a lot of factors, and unfortunately a lot of people don't conform or just don't care, believing that it won't happen to them. But storm preparedness is not difficult, and it will ensure that loss of life and property is minimized. The fact that you're reading this shows that you are concerned about storm preparedness, as you should be. Let's now get started discussing the various ways in which one can be properly prepared for the next big storm.
Here Is A Preview Of What You'll Learn…
Stocking Up On Basic Items and Emergency SuppliesReview (and Adjust) Your Insurance CoverageBattening DownCreating an Evacuation PlanStaying UpdatedMuch, much more!Download your copy today!
Tags: tornado preparation, emergency preparedness, survival kits, tornado shelters, tornado shelter, hurricane preparedness, tornado safety, emergency essentials, how to prepare for a hurricane, how to prepare for a tornado, tornado safety tips, tornado preparedness