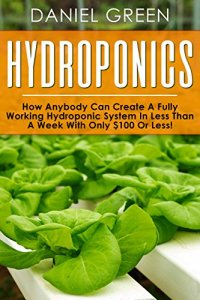 Bargain on 30th Aug 17 - 3rd Sep 17



or borrow free on Kindle Unlimited.
No reviews yet.
HYDROPONICS – FREE ON KINDLE UNLIMITED
Download This Great Book And Start Your Own Hydroponics System Today! Available To Read On Your Computer, MAC, Smartphone, Kindle Reader, iPad, or Tablet!
Do you want high quality & organic fruits and vegetables? Would you like to have fresh herbs always ready to prepare delicious meals? Are you sick of paying for overpriced greens at the supermarket? A hydroponic system offers the perfect solution to all of these problems!
Benefits Of Having A Hydroponic System…
It allows for urban farmingServes as a satisfying and stress dissolving hobbySaves you a lot of money!Benefits your healthNo hassle of dealing with weeds in your soilSuperior taste and nutritionEasy to automateWorry free gardening – Eliminates funguses, insects, viruses and disease And the list goes on…
You have probably fantasized about having your own neat little garden, so you can just walk a few steps and pick some fresh greens and herbs for your salad or some ripe and juicy strawberries for your smoothie in the morning – But you have no idea how and where to start? Well this book book is for you!
Here Is A Preview Of What's Included…
What exactly are HydroponicsHydroponics vs SoilHow to get started with HydroponicsHow to grow fruits, veggies & herbsDifferent types of Hydroponic-SystemsHow To maintain your Hydroponic-GardenHw to harvest the most nutritious and juicy fruitsMuch, Much More!
In this book you will learn how you can build your own hydroponics system in less than a week for no more than $100! Reading this book can save you a lot of money that you would otherwise spend on low quality produce from the supermarket. The fact that you can save more than $50 per month and have higher quality and organic produce, will make this book worth it for you!
Click the BUY NOW button and get your copy today for only $0.99! – Only for a limited time!