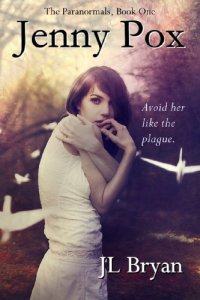 Eighteen-year-old Jenny Morton has a horrific secret: her touch spreads a deadly supernatural plague, the "Jenny pox." She lives by a single rule: Never touch anyone. A lifetime of avoiding any physical contact with others has made her isolated and painfully lonely in her small rural town.
Then she meets the one boy she can touch, and her life begins to change. Jenny feels herself falling for him, but first Jenny must learn to use the deadly pox inside her to confront her new enemy, a girl who secretly wields the most dangerous power of all.
* * *
"This tale highlights both the inspiring strengths and the abhorrent cruelties of human nature, forcing us to run through the full gamut of emotional responses and refusing to let us return to reality until everything Mr. Bryan wants us to experience has been felt, seen, and fully absorbed." -Jenny, Supernatural Snark
Selected by Geeks of Doom for Top 10 Horror/Urban Fantasy Books of 2010.
Winner of a Red Adept Award: #1 in Horror for 2010.
Not recommended for readers under eighteen.
BONUS: Includes an excerpt of Glimpse by Stacey Wallace Benefiel.