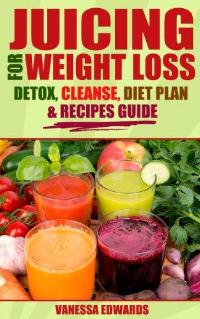 Free on 18th - 19th Sep 13



or borrow free on Kindle Unlimited.
No reviews yet.
Pages: 148
There are plenty of books on the market that claim to have the magic formula for weight loss, but Juicing For Weight Loss – Detox, Cleanse, Diet Plan & Recipes Guide gives you all of the information you need to juice your way to a no-nonsense approach to healthy, delicious weight loss.
Juicing For Weight Loss is not a fad diet plan that calls for strange foods, hunger pangs, and feeling deprived. It is a guide that debunks the myths about juicing, and explains how it can rev up your daily meal plan by making it easy to add fresh vegetable juice, with all of the associated nutrients.
Juicing For Weight Loss also provides in-depth information about the various juicers on the market, to help you choose the machine that best suits your needs and budget. Many people do not realize that not all juicing machines are alike, so it is important to understand how each type of machine works with the types of vegetables that you are most likely to juice.
The book also includes an extensive chart of vegetables that are great for juicing, with complete nutritional information, as well as instructions for how to safely prepare them. All of this information is provided in a handy reference chart that you will refer to again and again!
The last chapter of Juicing For Weight Loss contains a healthy assortment of delicious recipes for juicing, along with complete nutritional information.
Whether you are a novice or a seasoned professional vegetable juicer, Juicing For Weight Loss: Detox, CLeanse, Diet Plan & Receipes Guide is the only informational and reference book that you will need.