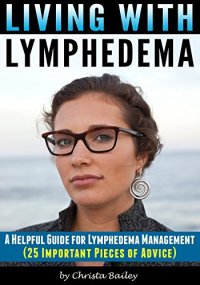 If you or someone you love is living with Lymphedema, then this book is for you!
Today only, get this incredibly useful guide for only $0.99. Regularly priced at $4.99. Read on your PC, Mac, smart phone, tablet or Kindle device.
Lymphedema is a disease that affects the lymphatic system in the body, which is the part of the circulatory system responsible for carrying a liquid around the body called lymph. Lymph and your lymphatic system on a whole houses your white blood cells, which, as you may know, produce antibodies that kill germs. Some people are born with lymphedema, which is called primary lymphedema. This happens when the person's lymphatic system is not fully developed at birth. Then there is secondary lymphedema, which happens when outside factors such as injury, radiation, or infection damages your lymphatic system. Lymphedema can also occur as one of the ugly side effects of cancer treatment. Lymphedema is a chronic condition, and the treatment for the disease is complex. The good news is that the suffering you experience can be limited, and throughout this ebook, you will be guided with lots of tips and suggestions for how to live with and treat your lymphedema.
Here Is A Preview Of What You'll Learn…
Embracing Your IllnessTaking Care of Your SkinLymphatic DrainageBandaging, Wrapping, and Compression TherapyDealing with the Emotional Side EffectsTemperature ControlMuch, much more!Download your copy today!
Tags: lymphedema, lymphedema management, lymphedema wrapping, how to manage lymphedema, living with lymphedema, lymphodema, lymphadema