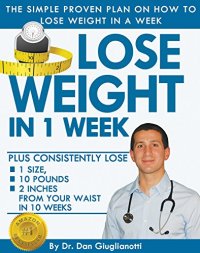 Free on 26th - 30th Apr 15



or borrow free on Kindle Unlimited.
No reviews yet.
Now A #1 Best Seller! How would you like to really lose weight in 1 week? What if you could do it naturally, and so that it stays off for good?
The great news is you CAN do it, and you can start right now. Download now and you can start losing weight today. You also get a bonus FREE food guide to help you lose even more weight!
Do you wonder ANY of the following: How do I set myself up to succeed on a weight loss plan? What foods should I be eating to lose weight fast? Exactly what exercises work best? How should I be tracking my weight loss? How do I find the right weight loss motivation?
If you answered yes to any of these questions, then it's important to know "what actually works" when it comes to losing weight.
DISCOVER:: How to Lose Weight in A Week, Starting Today
If you truly want to, you can and will succeed in losing weight! I absolutely know this is true, and it is the reason I put in so much effort to write this book. 
The reality is that in today's society, we are set up to fail with our weight. There are thousands of fast food restaurants, commercials, advertisements, and false claims that make it extremely difficult to make the right choices for our weight.
In this modern world, it's easy to make mistakes or just unknowingly make the wrong decisions. Put simply – the odds are stacked against you, so it's not entirely your fault.
There's so many distractions out there. Everyday you're bombarded with misinformation, and strong marketing messages to eat more of the wrong types of food, or do the wrong exercises. The obesity epidemic proves that things are not in your favor.
So let's go ahead and level the playing field! Here's what you'll learn inside:
INSIDE:: How to Lose Weight in 1 Week – The Simple Proven Plan to Lose Weight in A Week
Inside "How to Lose Weight in A Week" you'll get actionable content that answers the following questions:
Why is it important to make the proper preparations before trying to lose weight?

How do you clearly visualize your weight loss goals?

Is it better to exercise slowly for a longer duration or use quicker, shorter bursts of activity?

How do you get rid of temptations?

Why is developing good habits the key to your weight loss success?

How can cutting back on "bad carbs" accelerate your weight loss results?

How do you sneak extra activity into your day?
Losing weight doesn't have to be difficult. What you need is a simple, proven strategy you can begin to follow today. That's exactly what is provided in this book.
Would You Like To Know More?
Download now and lose weight fast, starting today.

You get a bonus FREE food guide to help you lose weight fast!
Scroll to the top of the page and select the buy button in the upper right hand corner.

I look forward to helping you succeed with your weight loss once and for all!