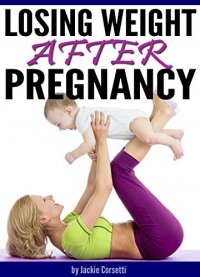 If you're looking for some help losing weight after having a baby, then this book is for you!
Today only, get this incredibly useful guide for only $0.99. Regularly priced at $4.99. Read on your PC, Mac, smart phone, tablet or Kindle device.
Losing weight after a pregnancy is a problem that most mothers encounter. Although giving birth is a momentous, joyful event, sometimes the inability to lose weight afterwards causes depression and insecurity in women. Gaining weight during pregnancy is normal, but being unable to lose the weight gained afterwards creates genuine frustration. If you too are stuck in this dilemma, not to worry, you can deal with this immediately and head-on by following the method presented in this ebook. You'll be able to lose all the unwanted flabby tissue in your body more successfully by knowing the true causes of how you acquired it during pregnancy. Believe it or not, blindly exercising without first having an understanding as to how you accumulated those specific fatty deposits can actually keep you from losing weight effectively. This book will provide you with a detailed explanation of how you have gained that weight and how to properly and effectively get rid of it after pregnancy. The steps are so simple and manageable that it will be easier than you might now be imagining. Continue reading to learn all about losing weight using healthy methods post-pregnancy.
Here Is A Preview Of What You'll Learn…
Understanding Weight Gain During PregnancyHow to Lose Pregnancy Weight after Having a BabyPost Pregnancy ExercisesBenefits of Maintaining an Ideal WeightPointers on Losing Weight after PregnancyMuch, much more!Download your copy today!
Tags: weight loss after delivery, weight gain during pregnancy, weight gain in pregnancy, weight gain pregnancy, pregnancy weight loss, , , losing weight after pregnancy, how to lose pregnancy weight, how to lose weight after having a baby, weight loss after pregnancy, post pregnancy weight loss, losing pregnancy weight, lose weight after pregnancy