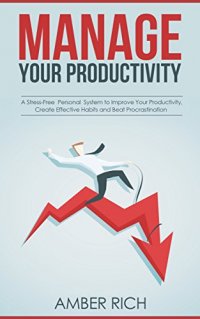 Free on 17th - 21st Jul 17



or borrow free on Kindle Unlimited.
No reviews yet.
Do you want to be successful, but you don't know how?
What if I told you that you can be successful using just one skill?
A skill that allows you to get amazing results and also enjoy life. Have you guessed what I'm talking about? I'm talking about productivity.
All successful people are very, very productive. They don't spend time and energy on useless things. They don't have unfinished tasks, hurries, and constant stress. Successful people use productiveness power and they confidently go for success.
Are you happy about your productiveness?
Do you want to know how to be more efficient?
Let me share a secret with you. The answer will be known with a systematic approach. Look closer at successful people. You'll see that they have a carefully-designed system. No method will give a bigger result than a few correctly implemented ones.
The book «Manage Your Productivity: A Stress-Free Personal System to Improve Your Productivity, Create Effective Habits and Beat Procrastination» will give you all the knowledge and tool you need, which will allow you to get closer to the results that you undoubtedly deserve.
Here are a few things that you'll get:
You'll know what you need the productiveness for and what influences it;
You'll learn how to manage yourself and your life;
You'll know about the nature of procrastination;
You'll turn actions that help to be more productive into sustainable habits;
You'll learn how to plan tasks in a way that will increase your results at least twice;
You'll learn how to set clear goals and make right decisions;
You'll take control of your stress;
You'll be productive instead of just busy;
And of course, you'll learn how to make your own productiveness system;
And much more.
And now the most important, you'll be able to:
Put in order the pending tasks;
Rationally use your time;
Don't do unnecessary work;
Not waste your time and energy;
Get rid of deadlines and stress.
And also, as a bonus: once you start thinking and acting like a successful person, you'll be a success magnet.
No man will refuse such opportunities. Now is the best time to learn how to be more productive and efficient and finally how to be successful.
Click the BUY NOW button at the top right of this page!