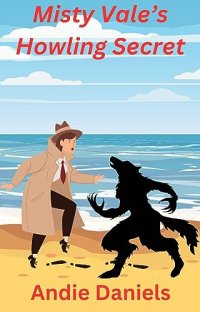 A murder has occurred. The body of a werewolf is found on the beach of Ballybunion, a town just outside the magical sanctuary of Misty Vale.
Abbey, a normal woman, one of the few allowed to enter Misty Vale, discovers the body, and feels compelled to investigate the mysterious death. She sets out to unravel the secrets that surround the murder.
As she delves deeper into the investigation, she uncovers the secrets which threaten to unravel the very fabric of Misty Vale. With the help of her supernatural allies, she must navigate through werewolf politics to solve the case.
As the investigation progresses, the stakes become higher, and she realises that the killer may be closer than she thinks. Can she uncover the truth before it's too late? Or will the killer strike again, plunging Misty Vale into chaos and darkness?
This werewolf murder mystery is a thrilling and suspenseful tale, filled with twists and turns that will keep you on the edge of your seat. With a cast of unique and intriguing characters, and a magical world that will captivate your imagination. This novel is a must-read for fans of mystery, fantasy, and the supernatural with a slow burn romance to satisfy all readers.