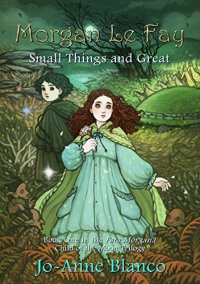 THE CHILD FATED TO SHAPE DESTINIES …
Young Morgan lives in Tintagel Castle by the sea, loved and sheltered by her noble parents. An extraordinarily clever child, extremely sharp-eyed, exceptionally curious. A little girl unlike other children.
One stormy night a ship is wrecked off the coast, bringing with it new friends – Fleur the princess from a far-off land, Safir the stowaway with a secret, and the mysterious twins Merlin and Ganieda. Morgan's visions of another world awaken her to the realisation that she has abilities others do not possess.
Not long afterwards, Morgan encounters Diana, the Moon Huntress, who charges her with a dangerous mission. Morgan must enter the secret realms of warring tribes of faeries who vie for the souls of lost children. There she must summon her magic to fight ancient and malevolent powers, to rescue young souls destined to be reborn …