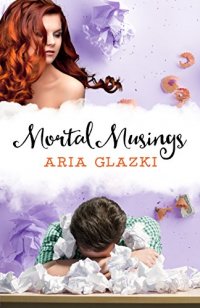 Free on 11th Sep 18



or borrow free on Kindle Unlimited.
No reviews yet.
"A paranormal love story that will leave readers satisfied in every way." –Urban Book Reviews Muse Alexandra has had it with the arrogant, ungrateful humans she is obligated to inspire. When the internal ranting of her latest charge pushes her past reason, she disregards the rules and forces her own words through his fingers, and is instantly entrapped in mortal form. With no magic, no identity, and no resources, Allie has no alternative but to navigate the mortal realm, depending entirely on her reluctant host while discerning what exactly caused her transformation–and how to reverse it.
Brett doesn't have a chance to consider the words that mysteriously showed up on his screen; he's too distracted by the stunning woman who appeared in his office out of nowhere. Before his brain can catch up, Brett's uninvited guest becomes enmeshed in his everyday life. Her artless innocence gradually lessens his suspicions. Most importantly, the writer's block that's been plaguing him dissolves under the fantasies the naively beguiling Alexandra inspires.
All too soon, the forced proximity sparks a confounding awareness neither writer nor muse are able to resist.  Mortal Musings is a 2016 Booksellers' Best Award Finalist