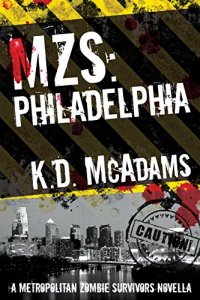 Top - Reviews - Update Details
Parker came to Philadelphia to escape the memories of his dead wife, he wasn't expecting martial law, or zombies.
At 20,000 words MZS: Philadelphia is Book 3 of the Metropolitan Zombie Survivors series.
The MZS SeriesBook 1 MZS: BostonBook 2 MZS: New YorkBook 3 MZS: PhiladelphiaBook 4 MZS: D. C. MZS: North East is all four stories in one book 
The Metropolitan Zombie Survivors escape New York and make their way to Philadelphia. After spending a few drunken days in his room at the Hotel Monaco Parker is ready to sober up and get some real food. The only problem is that zombies have taken over the hotel and the people that enter Liberty square do not receive a warm welcome. Will he be able to connect with the group from New York and convince them that he is one of the good guys?