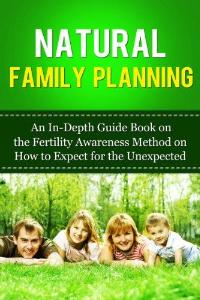 Find Out The Most Natural Way On Planning a Family!
Today only, get this Kindle book for just $0.99. Regularly priced at $4.99. Read on your PC, Mac, smart phone, tablet or Kindle device.
Conception and pregnancy is a joyful journey for a woman. For married couples, having a guide to family planning will make this journey meaningful and manageable. There are plenty of family planning methods and it is the choice of the couple that should be considered for this sensitive aspect of marriage.

Natural family planning is considered to be a moral method. Since it respects the procreative nature of the conjugal act, many couples who honor the religious aspect of marriage consider the natural family planning workbook very helpful as a fertility awareness and a total family planning book. It explains how natural family planning is safe and at the same time effective. It teaches you how to make use of fertility signals which can help you determine the right time to conceive.

Most family planning guide books discuss the benefits of family planning. However, this book will serve as the complete approach for natural family planning that focuses on the following important aspects: fertility cycles and nutrition, fertility facts, charting your way to conception, and pregnancy tips.

You'll learn the following key topics:
Benefits of Family Planning
Natural Versus Artificial Family Planning
The Process of Conception
How to Expect the Unexpected
Calendar-Based methods
Symptoms-Based Methods
Knowing what to expect before you're expecting is an excellent way to prepare both the husband and the wife to the changes that will happen once a new member of the family is on the way.

How to plan a family is quite a challenge especially if you choose to do it the natural way. That's why we've provided you with all the useful information that you need, including why it is more beneficial to use natural rather than the artificial family planning method.

Plan your family wisely, do it the natural way!!

DOWNLOAD NOW! Grab a copy of this book: 'Natural Family Planning' for a limited time discount of $0.99!

Tags: guide to family planning, family planning, natural family planning,

conception and pregnancy, fertility awareness, family planning guide, family planning book, the complete approach for natural family planning, natural family planning workbook, pregnancy tips, charting your way to conception, honoring our cycles, benefits of family planning, What to Expect Before You're Expecting, how to plan a family, family planning methods, fertility cycles and nutrition, fertility facts