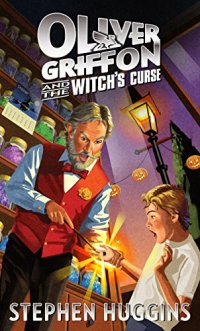 Free on 30th Sep 17 - 2nd Oct 17



or borrow free on Kindle Unlimited.
No reviews yet.
"Oliver Griffon and the Witch's Curse is a great story for kids–and adults!" — Said by someone very important.
But what's the story about? Read on…
Oliver can't stay out of trouble. And he's gotten into a heap of it this time.
In the waning days of October, strange magical events happen around Orchard Hollow, the little town where Oliver lives. He soon finds himself and his friends cursed to die on Halloween by the town witch.
But other mysterious forces are at work around Oliver, too. If he and his friends play their cards right, they might be able to remove the witch's curse. If not, this Halloween will be their last.
REQUIRED LEGAL DISCLAIMER:
In compliance with The Secrecy Compliance Department, and as authorized by The 1227 International Agreement for No Blabbing Allowed, this notice serves to inform the reader of this book that it is entirely a work of fiction. The names mentioned are made-up, and the events described herein definitely did not occur within the confines of Orchard Hollow, Massachusetts. As related, The General Wizardry Company and The World Wand Company and their subsidiaries are, of course, not real either. But most importantly, this notice serves to remind the reader that magic definitely, without a doubt, and in no way possible, exists at all.
However, complaints about this notice are required by law to be collected. Address all correspondence in this regard to "No One In Particular, Care Of: The Department of Natural World Diplomacy" and drop said letter in the nearest "normal" mailbox. Note that the use of "normal" here in no way implies that magical mailboxes exist, because that would be silly.