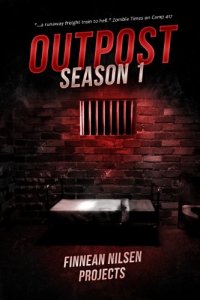 Top - Reviews - Update Details
"…a runaway freight train to hell." Zombie Times on Camp 417

"…relentless…breathless… This is horror action stripped down to its essentials…" Rory Abel, DrunkenZombie.com

"…amazing…" Kimberley Reeves, Bestselling Author of Broken

"I love this series!" David Dalton, Goodreads review

"…awesome!" J. Hinds, Amazon review

"…the perfect zombie tale." bilbosbookends.com on Camp 417

"…the best zombie apocalypse [series] I've ever read." Lisa, Amazon review
FIFTEEN HUNDRED PRISONERS

Brennick Maximum Security Prison, known unofficially as the Outpost.

THREE HUNDRED GUARDS

Home to the most vicious violent offenders for a thousand miles in any direction.

TRYING TO SURVIVE

The guards watch their every move, weapons ready. The Warden rules with an iron fist.

IN A DEAD WORLD

Population: 1800, and falling. Fast.
*Originally published as the Outpost Season One Box Set.