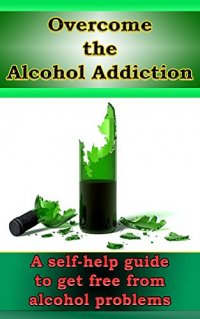 Learn how to help you to get out of the Alcohol Dependence

Have you had enough of the pain? Would you like to stop drinking?

**THERE IS A FREE GIFT AT THE END OF THE BOOK!**
Let's face it.. It's difficult to quit this bad habit..

Alcoholism is characterized by an increased tolerance of and physical dependence on alcohol, affecting an individual's ability to control alcohol consumption safely. It's really tricky.
You're about to discover strategies to free yourself from this nasty habit that destroys people and families. This book provides proven methods that are going to really get you the tools you need to take back your life and really live it to the best of your capacities!
Are you ready to make this change for you and your loved ones?

The Truth is, if you're suffering from alcoholism, it is because you need motivation and tools to be able to get your head out of this and finally get back your life.

This book have just what you need!
Here Is A Preview Of What You'll Learn in this book:
You'll understand what is alcoholismHow to commit yourself to QuitPreparing yourself to change for the betterClarifying the meaning of your LifeProcess to get away from cravingsMuch, much more!
Change your life Right Now by Downloading your own copy Today!
Tags: Alcohol Abstinence, Alcohol Cure, Alcohol Remedy, Alcohol Recovery, Alcohol Detox, Alcohol Self-help, Alcohol Abuse, Blackout, Alcohol Dependency, Alcohol, Health issues, Life Problem, Recovery, Addiction, Alcohol Problem, Self-help, Health, healing, sport, gambling, sport betting, Alcoholism, Self Control,