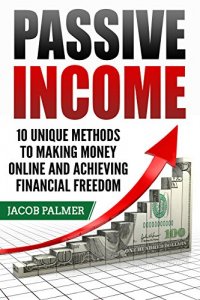 Free on 13th - 17th Jan 18



or borrow free on Kindle Unlimited.
No reviews yet.
Are you tired of working for the man? Are you unhappy about your current financial situation? Ready to take the next step to becoming financially free? You have come to the right place!
FOR FREE on Kindle Unlimited
It's one thing to build a business. It's another to get married to it. Whether you have a day job or not, it's always a good idea to look for business opportunities that enable you to set things up and pretty much step away. I am, of course, talking about passive income systems that enable you to build your system once and earn money many times over without breaking your back.
Let's face it. If you wanted to bust a sweat, break your back, or otherwise put in a hard day's work, you have your day job for that. People looking for passive income want to maximize their rewards while minimizing effort. Keep in mind that building such systems require some capital. In the "real" brick and mortar world, this requires quite a bit of capital. After all, if you want to make money off residual income rights to songs or other intellectual property, you probably would have to pony up a pretty penny to get those rights in the first place.
Not so with online income systems. While you still have to spend some capital, it's a tiny fraction of what you would have to spend if you were to build an offline passive income system. Another example of this is real estate. Regardless of where you live in the United States or Western Europe, buying real property often involves bank loans and requires an extensive sum of cash. Whether you are renting out apartments or you are developing malls, this type of passive income can definitely burn a hole through your pocket.
Thankfully, online passive income systems don't involve such financial drama. For as little as 100 hundred dollars, you can set up a viable online business. In fact, ViralNova, a blog that sold for north of a million dollars, was started on a shoestring budget. We're talking about less than a hundred bucks. If they can do it, you can do it too. If you're looking to build a nice passive income through the internet, you have definitely come to the right place.
Here Is A Preview Of What You'll Learn…
how to republish viral social media content how to set up an eBay arbitragecreating a professional paid directoryreselling software powered servicesfinding low cost designers on marketing forums and entering contestsAnd much, much more!
Download your copy today!
Take action today and download this book for a limited time discount of only $0.99! You can start living a life that you deserve, a life of financial freedom. All it takes is action!
Please note that this is not a get real quick strategy. The steps outlined in these pages will require some effort – not significant – to a passive income over time.
Tags: passive income business, work from home, internet marketing, ecommerce, online business, passive income streams, entrepreneur