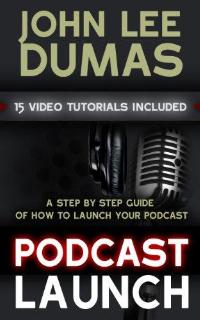 Are you ready to launch your very own Podcast? Learn from the best! John Lee Dumas, host of the top ranked EntrepreneurOnFire, is the undisputed authority in launching a Podcast that attracts a massive audience and income. EntrepreneurOnFire was awarded 'Best in iTunes 2013' and has generated over 7-Million downloads since launch.
In Podcast Launch, John shares how he launched EntrepreneurOnFire and turned his passion into a top-ranked business Podcast that generates a SIX-FIGURE monthly income. It started with an AH-HA moment, and passion has guided him since. John shares his journey with complete transparency so you can emulate his successes and avoid his failures. Your final result will be a podcast of your own and we couldn't be more excited for you!
Podcast Launch walks you through the entire podcasting workflow, from the very beginning stages of helping you identify your Podcast name, topic, and the equipment needed; then we focus on how to record and edit your podcast, add intros and outros, publish, embed onto your website, submit your podcast to iTunes, Stitcher Radio, and Blackberry; and much more.
Podcast Launch also focuses heavily on your Podcast Launch strategy, the best methods of growing your audience and platform, and an entire chapter is dedicated to the exciting world of MONETIZING your Podcast.
Ready for more?
Take your Podcast to the next level by joining the #1 Podcasting community in the world: Podcasters' Paradise
Podcasters Paradise is THE place to CREATE ~ GROW ~ MONETIZE your Podcast.
Podcasters' Paradise is made up of 3 components:
1. An ever-evolving library of video tutorials for the beginner, intermediate, and expert Podcaster.
2. A thriving private Facebook group and community forum where you can engage with thousands of Podcasters, exchange honest reviews, find guests for your show, find shows to be a guest on, and share the latest tips, tools, and tactics. Have questions? This amazing community is here to help.
3. To top it off, we have monthly Webinars where today's top Podcasting experts, like Pat Flynn and Amy Porterfield, Michael Hyatt, and Lewis Howes share their insider tips with the Podcasters' Paradise community. John Lee Dumas also holds a monthly Q&A session and boy do we have fun!
John Lee Dumas Bio:
John Lee Dumas is the Founder and Host of EntrepreneurOnFire, a top ranked podcast named "Best in iTunes 2013". John interviews today's most inspiring and successful Entrepreneurs 7-days a week and has been featured in both TIME and Inc. magazine, and is the founder of Podcasters' Paradise; a community where Podcasters can create, grow, and monetize their podcast. EntrepreneurOnFire generates over 550,000 unique downloads a month with past guests such as Seth Godin, Tim Ferriss, Barbara Corcoran, Gary Vaynerchuk, and Guy Kawasaki. Recaps of the 600+ episodes and MUCH more can be found at EOFire.com.