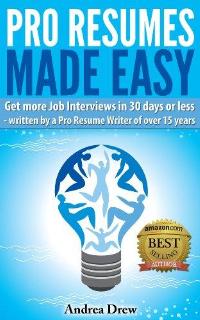 Also Available as:
Print Edition

Pages: 92
If you're looking to get a break that could lead you to your dream career, or if you've tried desperately for a foot in the door, only to get knock back after knock back, you're not alone. And you've certainly come to the right place!
You see 95% of people fail miserably in their search for a simple job interview – 95%!!
They put in the effort to create a good resume.
They buy the appropriate clothing to make a lasting, great first impression.
They take the time to learn the effective job interview techniques for success.
But instead of an invitation to a job interview, they get the cookie cutter, "Thanks but you were unsuccessful" letter, notifying them of job application failure. In other words, they don't even make it to the job interview stage!
Sound familiar?
If that's been your experience so far, listen up: chances are it's not your fault. Chances are it's not your lack of experience or qualifications that's letting you down. It's something as simple as your resume. In fact, I'm almost certain it's your resume that's not cutting the mustard for you.
In other words, you've probably got one heck of a lot going for you in terms of the job you're applying for – you just need one thing: the right resume representation!
And that's where this ebook can help you. In it you can learn:
How to get more job interviews without spending a fortune on professional resume writers (page 6);
What real, winning resumes look like because I provide you with samples of effective resumes that got interviews for my customers (pages 24 and 77);
The SINGLE most critical resume step that means the difference between success or failure and can GUARANTEE a resume that gets results in hours (page 16);
The biggest resume blunders and how to avoid them (page 69);
How to avoid creating an embarrassing resume that ends up thrown in bin with a laugh (page 76);
What you must do NOW to dramatically increase your resume response rate by 100% (page 10);
The one explosive secret that's sure to get you more job interview requests than you could have ever imagined (page 19);
My most VITAL and confidential tips that most job seekers will never discover ;
Samples and examples of winning cover letters (page 82);
All the secrets from an expert Resume Writing Veteran, in the business since 1998; and
The specific A-Z step by step guide on how to write a winning resume, not a general what do to guide – commonplace with all the e-books you've seen on the topic so far!
In other words, everything you need to do in order to turn your resume into a job interview magnet is in my e-book…Pro Resumes Made Easy….
NB: The next book in the series: "Government Job Apps Made Easy" can be found on Andrea's amazon author page here: amazon.com/authors/andreadrew