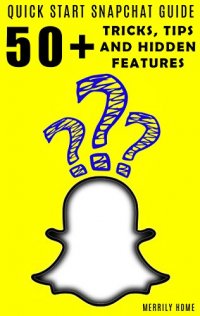 Bargain on 11th - 12th Jun 17



or borrow free on Kindle Unlimited.
No reviews yet.
How to use Snapchat – More than 50 cool tips, tricks and secret hacks that you may not know about!
When it comes to Snapchat, there is way more than meets the eyes. It has all kind of capabilities that may not be evident at the first glance. There are many hidden features in the Snapchat app that you haven't seen or haven't discovered yet!
There's a good chance that you've already downloaded Snapchat, tried to use it and been really confused. The interface can be really confusing for the uninitiated. Snapchat usually hides things in its user interface and if one person discovers it, everyone else is going to see it and everybody is going to want to do it too. People all over the world know how to use Snapchat and there are a ton of features that are not obvious, that people use every single day. Now, if you feel left behind, you have no reason to worry.
I've created this guide to help you save time by listing and explaining the tricks, features and tips for both beginners and experienced users. Some of the things included are:
oLearn Snapchat basics
oNavigate the user interface
oTaking snaps and recording video
oUsing Snapchat features and tools
oSnapchat stories
oHidden features
oSecret tricks
Download your copy today! Discount for a limited time only!