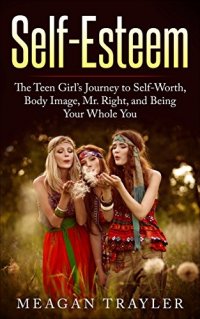 Free on 2nd - 6th Sep 18



or borrow free on Kindle Unlimited.
No reviews yet.
As a teenager I struggled with self-esteem, confidence, and mental disorders ? Obsessive Compulsive and depression. I was a perfectionist, a people-pleaser, and starving for affirmation and validation. All these things combined made me desperate for any kind of positive attention I could get. I was afraid I would never be good enough, because I never felt like I was.
That was a quote from my book Self-Esteem: The Teen Girl's Journey to Self-Worth, Body Image, Mr. Right, and Being Your Whole You. If you, or someone you know, can relate to what I shared, this book is for you. In it, I tell my story of struggling with low self-esteem, depression, poor body image, lack of confidence, and looking to others for my self-worth since being a young teen. I also share my journey of finding true self-worth and becoming a whole person. I share the things I learned, the habits I created, the habits I kicked, and some tips that have helped me. In it, I discuss beauty and the many faces of it. I offer you my habits and practices for healthy living, mentally, physically, and spiritually. We'll talk about facing fear, creating confidence, defeating doubt, accepting yourself, using your gifts, embracing your uniqueness, and stepping outside the drama. I give tips for Bible study, my favorite recipes, and helpful books to read. I offer what God says about you and your worth. I talk guys, what you want, and what to look for. I get vulnerable about mistakes I've made, things I regret, and how you can avoid those pitfalls. I share my struggles, raw and real, in hopes that they will help you on your own journey through self-esteem.
Here Is A Preview Of What You'll Learn…
The only source of true self-worthHow to be a whole personPursuing excellence and continual growthEmbracing your uniquenessFacing your fearsWays to build confidenceThe potential to look for in a guyFiguring out "Am I a whole person?"And much, much
more!
I know many girls that struggle with low self-esteem and a lack of confidence, and I wanted to come along side them and help them. Through the telling of my story, my hope is that the girls who read this book will know that they are not alone, that there is a place to find real, fulfilling self-worth, and that I am right there with them on this journey to being Your Whole You.
Download your copy today!
Tags: (Teen girls, self-help, womanhood, preteen, relationships, love, Mr. Right, expression)