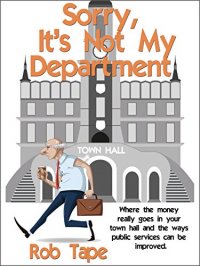 Also Available as:
Print Edition

Top - Reviews - Newspaper - Update Details
Ever wondered about what goes on behind the closed doors of your local council. From the infighting of your elected politicians, government blunders and the bloated, chaotic bureaucracy masquerading as administrative control the contemporary operations of councils are definitely something to behold.
Most people have little idea of how much their local council can impact on their lives – or, indeed, how their Council Tax is put to use in these behemoths of bureaucracy. With over two decades of experience in a number of councils across the country, Rob Tape is finally here provide an insight into what goes on in your local town hall. Punctuated with anecdotes that illustrate the waste in the public sector, he lifts the lid on just how cumbersome and ineffective councils are becoming in looking after its citizens.
Yet there is a glimmer of hope. With his experience and alternative standpoint, Rob tries to suggest "A Way Forward" for some of local government's biggest problems – wasted budgets, consultation overload, the role of councillors and privatisation to name but a few. With a unique awareness of how things really work this book offers impartial advice for anyone in politics and government wishing to generate real change in the way our councils are run.