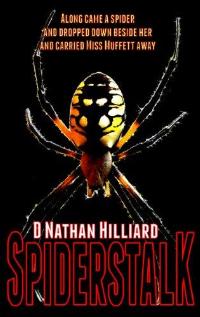 Free on 2nd - 6th Aug 21



or borrow free on Kindle Unlimited.
Also Available as:
Print Edition

Top - Reviews - Newspaper - Update Details
Adam Sellars is about to discover there are real monsters in the world…. Life hasn't been kind to Adam lately.In the past year he has broken up with his fiancee, barely survived a terrible car wreck, and had his brother's family vanish while he lay unconscious in the hospital. The only thing he has left of them is a frantic call in his cell phone's voice messages, along with the blurry photo of a spider. Since then he has been a crippled shell going through the motions of life with nothing but the search for his brother to keep him going.But Adam is about to find out that things can still take a turn for the worse. Much worse.His quest for his brother has brushed up against a very dark corner of the world and something has come out of that darkness with an unholy vengeance. Something unbelievable. He can't fight it, he can't hide from it, and not even the police can protect him as his world descends into chaos.
His only hope lies in a mysterious pair of strangers who have appeared out of nowhere with an offer of aid. But they have their own agenda, and his survival may not be their top priority. Now Adam must keep his wits about him and learn to believe in himself again as events send him on a collision course with a monster more horrific than he ever dreamed possible.