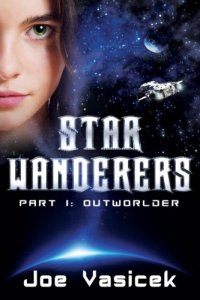 Bargain on 7th - 11th Aug 22



or borrow free on Kindle Unlimited.
Top - Reviews - Update Details
HE WANDERS THE STARS IN SEARCH OF A HOME. INSTEAD, HE GOT A GIRL WITHOUT ONE.
When Jeremiah arrived at Megiddo Station, all he wanted was to make some trades and resupply his starship. He never thought he'd come away with a wife.
Before he knows it, he's back on his ship, alone with his accidental bride. Since neither of them speak the same language, he has no way to tell her that there's been a terrible mistake. And because of the deadly famine ravaging her home, there's no going back. She's entirely at his mercy, and that terrifies him more than anything.
Jeremiah isn't ready to take responsibility for anyone. He's a star wanderer, roaming the Outworld frontier in search of his fortune. Someday he'll settle down, but for now, he just wants to drop the girl off at the next port and move on.
As he soon finds out, though, she has other plans.
STAR WANDERERS: OUTWORLDER is a 15,000 word (40-60 page) novelette set in the Gaia Nova universe one thousand years before the events of BRINGING STELLA HOME. It is the first part in the STAR WANDERERS series, which includes:
OUTWORLDER

FIDELITY

SACRIFICE

HOMEWORLD

DREAMWEAVER

BENEFACTOR