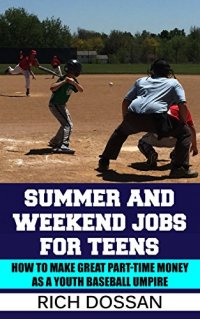 Looking for the best part-time summertime job for teenagers? Become a youth baseball umpire just like author, 18-year-old Rich Dossan! Starting at age 15, he was making more money than all his friends and only working two days a week! In this step-by-step guide, Rich shows you how to find, apply for, get started and succeed as a new Little League baseball umpire.
TEENAGERS: DO YOU WANT A SUMMER JOB THAT:
Is always looking for more help?Pays more than minimum wage?Lets you work outdoors around a sport you love?Allows you to take weekends off whenever you want?Never makes you sit behind a computer?
YOUR SUMMER JOB DOESN'T HAVE TO BE A DRAG – LEARN HOW TO USE YOUR LOVE OF SPORTS & OUTDOORS TO BECOME A YOUTH BASEBALL UMPIRE
If you have a passion for the all-American sport of baseball, a part-time job as a youth baseball umpire could be the perfect summer job for you. In nearly every community in America, spring, summer, and fall means neighborhood baseball fields filled with baseball dads, moms, and players ready for a day dedicated to youth baseball. And every one of those games needs youth baseball umpires.
WHILE UMPIRING YOUTH BASEBALL CARRIES RESPONSIBILITY, MANY TEENAGERS ARE PERFECT FOR THE JOB
Teenagers naturally have many of the skills needed to be a great youth baseball umpire, including:
Knowledge of the game if they played Little League baseball in the pastStamina and physical fitnessWillingness to learnAbility to get along with peopleLove for youth baseball, sports & outdoors
Summer and Weekend Jobs for Teens: How to Make Great Part-Time Money as a Youth Baseball Umpire by Rich Dossan will teach you what you need to know to get and excel at a summer job as a youth baseball umpire. In the guide you will learn how to:
Discover if baseball umpiring is a good fit…before applying for the jobFind umpire job openings and how to applyHit your job interview out of the park!Get hired even if you rode the bench as a little league playerBuy only the equipment you'll need to get started (for cheap!)Expect and request training from your employerGet tips they won't teach you in your trainingUnderstand certain game rules that are confusingSchedule for gamesStart a game, including what to say to coaches at the beginningGet used to hearing your own voice so you are confident when making callsBe patient with yourself, coaches, parents, and playersLook like you've umpired before even in your first gameHandle hostile coaches without going overboardAvoid common mistakes made be beginning umpiresWork with other umpires you're assigned to without letting them take advantage of youStay in control of the game when things get out of handTalk with players…and when not toGain a good reputation as a quality and reliable umpire and have higher paying umpire jobs come to you!Advance to competitive and tournament baseball umpiring for bigger paychecks!
If you love sports & outdoors, make sure to read Summer and Weekend Jobs for Teens: How to Make Great Part-Time Money as a Youth Baseball Umpire before accepting that part-time job washing dishes or bagging groceries. Umpiring youth baseball may be the perfect summer and weekend job for you.
18-year-old Rich Dossan has been umpiring youth baseball since age 15. Beginning in a recreational league, he quickly worked his way up to umpiring competitive and tournament leagues. A recent High School graduate, Rich will be attending college in the fall while continuing to earn higher than minimum wage umpiring youth baseball.