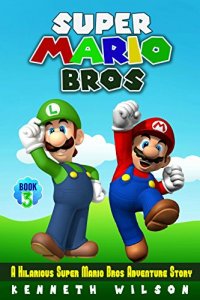 Free on 30th Jan 17 - 2nd Feb 17


No reviews yet.
This book appears to be unavailable on Amazon.co.uk at the current time. If this is incorrect, please let us know here
Super Mario Bros (Book 3): A Hilarious Super Mario Bros Adventure Story | Get It Now! (BONUS INSIDE)
There's chaos in the Mushroom Kingdom yet again. Every land is writing to tell Princess Peach that someone has come in and taken over, ruining everything. The strange part is that everyone says it's Wario who says he's the new ruler?
Just when she's puzzling that out, Wario writes to her himself asking her to come to see him. She knows it's a trap but she has no choice, so she brings Mario with her. Together, they travel to forgotten city Cramalot to stop Wario in his tracks.
It all goes wrong though, and soon Mario is up against the clock as he has to save Princess Peach, the Professor, and the whole Mushroom Kingdom before Wario can enact his nefarious scheme! Can he do it before the clock runs out?
Scroll Up and Click on "buy now with 1-Click" to Download Your Copy Right Now
* * * * * * * * * *
Tags: Super Mario, Super Mario Bros, Super Mario Jokes, Nintendo, Luigi, Luigi Jokes, Super Mario Bros Books, Super Mario Bros Game, Wario, Nintendo Jokes, Donkey Kong, Pokemon, Pikachu, minecraft steve, jokes for kids, books for kids