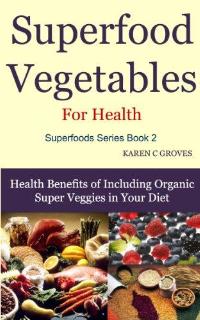 INSIDE: With this Super Veggies book, Get a FREE Benefits of Super Fruits book!
That's right – – download this book and get a free copy of How to Benefit From Fruit Superfoods.
READER REVIEWS
. . . will help me live a better life and improve my eating habits, thanks!
"Outstanding job of outlining the nutritional values and health benefits of veggies."
"Jam packed with great information and was a real help to me."
"THIS book has recipes and ideas for how to include each food."
". . . solidly backed up by research . . . such a pleasure to read . . . "
Here is the Skinny About This Book:
This book is a guide to the most nutrient dense vegetables you can buy – from Amaranth and Asparagus, to Winter Squash. These super veggies, vegetables that are nutrient dense, can reduce your cancer risk, reduce your risk of stroke, lower your blood pressure, reduce your stress, improve your immune system, and much, much more. You'll learn their nutritional values, health benefits, and how best to include super veggies in your diet.
You'll Also Learn . . .
What is 'organic' and what is 'natural.' We discuss how vegetables, and other superfoods in general, can be combined with different foods and eaten for the greatest benefit.
Do you know how vegetables should best be eaten? We tell you this in detail with each super veggie. Vegetables are neutral foods and can be combined with meats, starches or other vegetables, and there are ways as well to combine fruits with compatible foods to help digestion.
Start enjoying these healthy veggies today! Download this book NOW!