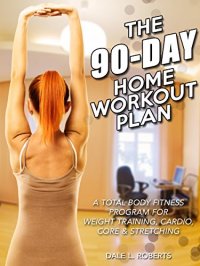 Free on 22nd Feb 19



or borrow free on Kindle Unlimited.
No reviews yet.
Learn How to Get in Shape With a Powerful 90-Day Home Workout Plan
You know you need to exercise, but most workout programs take too much time, seem too extreme or they put you in the middle of the "meat market" scene at most gyms. There has to be an easier way.
To experience the health benefits exercise has to offer, all you need to do is follow a simple plan to that fits your already busy schedule and get you the results you've always wanted.
The Real Struggle is Having Specific Workout Routines for Anywhere to Use at Any Time

Most people have the desire and capacity to exercise, but the lack of resources and time stop them from ever getting started. Sleepiness keeps you from getting to early morning "boot camp" classes or a small apartment keeps you from making room for weights and equipment. Real-life obstacles like these can prevent you from exercising at home or the gym.
Dale L. Roberts' new book "The 90-Day Home Workout Plan" helps you overcome typical obstacles that continually get in your way. By identifying specific solutions, this book will help you experience a personal breakthrough and achieve your best health and fitness goals.
Introducing: The 90-Day Home Workout Plan – A Total Body Fitness Program for Weight Training, Cardio, Core & Stretching

This book includes:
Workouts designed to be done in less than an hour in a step-by-step plan Minimal equipment needed – do from home or at the gym Great full color pictures for quick exercise references Learn how to maximize the most out of your time with your workout Different exercise routines for each day of the week Includes exercises for all levels, from the beginner to the athlete Build strength, endurance, core development and flexibility And, much more! It's time to stop overthinking your exercise routine. You can improve your health and build your fitness without sacrificing all your free time. "The 90-Day Home Workout Plan" is a simple common sense approach that's easy-to-follow no matter where you are and what kind of equipment you have.
Scroll to the top of the page and click the buy button to build your new home exercise plan today!