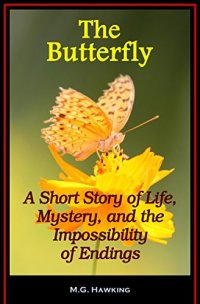 Bargain on 31st May 21 - 4th Jun 21



or borrow free on Kindle Unlimited.
Top - Reviews - Update Details
An Elegant Short Story of the Mysteries of Life
Welcome. If you relish enchanting short stories — the kind that prompt you to briefly put down your reading because you're inspired to think about what you've just read — then you'll love this book. A brief excerpt:
"It is a pleasant late day, mid-August, warm with a heavier moist breath than that of the winter months. The gardeners are scoring the lawn opposite the window and, where the mowers have been, the grass lays flat and gleams with moisture. Such vigor comes rolling in from the newly cut lawns and pasture beyond that it is difficult to keep the eyes away. The birds too are keeping to one of their festivities, soaring round the tree tops until it looks as if a vast net with hundreds of black knots in it has been cast up into the air, which, after a few moments, sinks slowly down upon the trees until every twig seems to have a knot at the end of it. Then suddenly the net is thrown into the air again, in a wider circle this time, with the utmost clamor and vociferation, as though to be thrown into the air and settle slowly down upon the tree tops is a tremendously exciting experience."
This enticing story explores the power, the light, that pure bead of energy that animates us all, and the impossibility of endings…
A richly entertaining tale that, if allowed, will come to take on a life of its own.
First U.S. Edition. 16,110 words. Bonus Section includes excerpts from The Living Part of A Myth, Five Years in the Valley of Masters book series.
Books in The Living Part of a Myth Series

A Discovery of an Unparalleled Kind (Book One)

A Series of Extraordinary Events (Book Two)

Antiquity, Three Crowns, and a Princess Revealed (Book Three)

Through a Looking Glass Several Hundred-Thousand Years Old (Book Four)

Kalika-Khenmetaten, The Supreme Egyptian Adept

Mystic Wisdom of the Masters, The Esoteric Knowledge of Great Adepts

The Illumination – A Story of the Magic of Life and The Light

Interview with an Oracle, Astonishing Revelations about Life and Our World

Ri-iha-mo – Tibetan Mountain Goddess, Encounters with a Legend of the Himalayas

Library-cataloging-data: beauty, life, visionary, metaphysical, mystical, esoteric, enlightenment, wisdom, knowledge