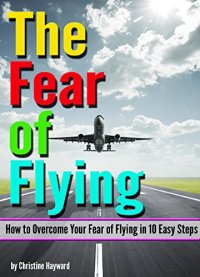 If you're ready to overcome your fear of flying, then this book is for you!
Today only, get this incredibly useful guide for only $2.99. Regularly priced at $4.99. Read on your PC, Mac, smart phone, tablet or Kindle device.
Flying is a great way to get from point A to point B. It is very safe and time-efficient, but there are still many who have flight anxiety or a fear of flying, or aviophobia. Many of these people respond to this fear by not flying at all, which limits them in various ways. Some of these individuals have had flight anxiety for most of their lives, while others have been flying comfortable for a long time, and suddenly develop this condition due to unexpected factors. Sadly, a lot of people who experience flight anxiety resort to pharmaceutical or alcoholic means just to be able to fly. While most people who are afraid of flying are most fearful of the plane crashing, others actually suffer from claustrophobia, where being "trapped" in a flying "bus" feels like too much to handle. There are certain steps that can be taken to completely overcome aviophobia. While the fear might currently be a challenge to for those suffering from it, it doesn't need to continue to be. In this ebook, we will discuss the ten steps it takes to get rid of the fear of flying. But first, let's review (and debunk) some of the things people worry about that causes the fear in the first place.
Here Is A Preview Of What You'll Learn…
The Facts of Flying and De-Bunking Common MythsConquering Your Fear in 10 Easy StepsGiving Your Fear a NameKnowing What to ExpectUnderstanding that Airplanes Are Designed to Survive TurbulenceMuch, much more!Download your copy today!
Tags: afraid to fly, afraid of flying, im afraid to fly, flying phobia, scared to fly, fear of flying course, how to conquer the fear of flying, how to conquer fear of flying, how to get over a fear of flying, how to get over the fear of flying, aviophobic, aviophobia, the fear of flying, fear of flying tips, how to get over your fear of flying, getting over fear of flying, get over fear of flying, fear of flying, how to overcome fear of flying, fear of flying help, fear of flying book, scared of flying, how to get over fear of flying, overcoming fear of flying