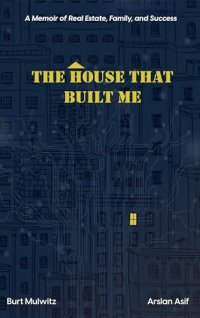 Embark on a transformative journey through "The House That Built Me," a memoir that chronicles the extraordinary life of Burt, a highly experienced investor and single father with over 50 years of mastery.
From an unconventional upbringing that forged his path to chance encounters that redefined his destiny, Burt's story is a rollercoaster of experiences that captivates from start to finish.
Unveiling the realities of life, Burt's memoir delves into the art of networking, negotiation, and effective communication in the dynamic world of investments. Discover his insights gained from overcoming challenges and setbacks, including captivating anecdotes like "The Plumbing Debacle: A Lesson in Resourcefulness."
At the heart of Burt's journey lies his commitment to mentorship and leadership. His unique narrative showcases the power of leaving a lasting impact, both professionally and personally. As you delve into the chapters, you'll explore Burt's expertise in financial intelligence, wealth management, and the ever-evolving world of crypto investments. Backed by neuroscience studies, Burt's focus on the psychology of making money and investing sets this memoir apart.
A single father, Burt's narrative is a testament to balancing family and success, offering an intimate glimpse into his journey of nurturing talent and building lasting connections. With legacy and giving back at its core, "The House That Built Me" isn't just a memoir; it's a transformative experience that equips you with the tools to achieve unparalleled success in life and finance.