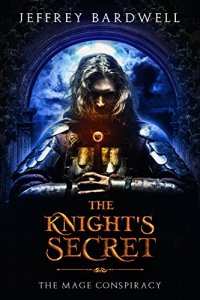 Top - Reviews - Update Details
A terrible secret. A vengeful empress. An unstable empire.
Sir Corbin, retired Hero of Jerkum Pass, dies on the eve of an urgent mission. His granddaughter Kelsa dons the old man's armor and his wrinkles and sets out to complete his last quest. She ventures to the capital of the Iron Empire. The city is in an uproar. The emperor has been slain by rogue mages. The new empress is livid. Now, every mage is suspect, including Kelsa's mother.
Hidden behind a magic ring, Kelsa infiltrates her grandfather's regiment. The bonds between retired army mages and cavalry have begun to crack. Only Sir Corbin can mend the breach. Caught between the dark suspicions of an old friend in the cavalry and the lustful advances of a mage ex-lover, the disguised hero struggles to live up to her grandfather's shining legacy. Yet the longer she tiptoes in his shadow, the more tarnish she uncovers. Can Kelsa complete her quest before the descending wrath of the empress and Corbin's sordid past expose her?
Unravel The Knight?s Secret, the first epic fantasy romance of The Mage Conspiracy series. Discover a world of entanglements and intrigue where lies cut deeper than any sword.