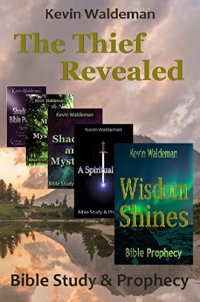 Free on 20th - 24th Jul 21



or borrow free on Kindle Unlimited.
No reviews yet.
Perhaps the most cohesive and relevant message to the Church since the Gospel, this compilation of all 5 of the books of Kevin Waldeman was even predicted by the Lord himself. In the parable of the goodman of the house, we were told of certain meat of the word that would be revealed in due time, and that is the very substance of these books.
Basically it's a survival manual from God to the Christians of the end times.
The result of a calling from God, it begins with deep revelations from the scriptures and covers a very broad range of subjects, including specific prophecies of the near future.
Evolution, the seven days of creation, the identity of the false prophet, the truth about the Godhead and the Trinity, the correct interpretation of the book of Revelation and many other topics are explained in ways you've probably never considered before. You've no doubt been told that no man can know the day or hour of our Lord's return. This work explains how wrong that belief really is, and how the whole doctrine is solely based upon the misinterpretation of a single verse in the original Greek.
A seven year period in the near future is also revealed which perfectly matches the predictions of Christ, concerning signs in the sun, moon, stars and heavens. If you've ever wondered what the future holds, there's no need to go any further than this.