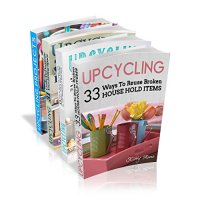 Upcycling Crafts: Discover 197 Crafts That Reuse Old Clothes, Furniture, Linens & More!
FREE BONUS FOR A LIMITED TIME ONLY: If you download this book TODAY, you will receive a FREE DOWNLOAD of Kitty Moore's best selling book, 100 Ultimate Crafts for a Rainy Day! You will ALSO get FREE ACCESS to Kitty's Premium Image Gallery, which contains images of all the crafts featured in ALL of her books! The free access links are inside the book.
From the Best Selling Arts & Crafts writer, Kitty Moore, comes her new Upcycling Crafts Boxset Vol 1: The Top 4 Best Selling Upcycling Books With 197 Crafts! This boxset includes:
1) Upcycling Crafts: 100 Upcycling Projects That Reuse Old Clothes
2) Upcycling: 33 Ways To Reuse Broken House Hold Items
3) Upcycling: 31 Crafts To Decorate Your Living Space: Refresh Your Home
4) Upcycling: 33 Ways To Reuse Old Glass Jars, Mason Jars, & Wine Bottles For Home Decorations & Much More!
This boxset gives you a wide variety of upcycling crafts that allow you to update your home, wardrobe, and decorations. Do you love upcycling crafts, but have run out of new and creative ideas?
THEN THIS BOXSET IS FOR YOU
This boxset provides you with 197 upcycling crafts along with step-by-step directions and full list of materials!
Some Of The Crafts You Will Find In This Boxset Include:
Indigo Tie-Dye Jeans
Lace Scarf From Old Table Cloth & Sheets
One Shoulder T-Shirt
Floor Rug With Old Sheets
Garden Tool Bucket Caddy
Cloth Flowers
T-Shirt Quilt
Christmas Wreath
Adult Socks Into Toddler Pants
T-Shirt Into Toddler Dress
Vintage Fork Magnet
Bamboo Scent Diffuser
Rolling Pin Towel Holder
Spoon Mirror
Mercury Glass Counter Piece
Wine Bottle Chandelier
Jack Daniels Soap Dispenser
Glass Jar Garden Edge
No Sew Shades
Garden Rake Wine Glass Holder
Balloon Lace Chandelier
Quick And Easy Photo Ladder
Well, what are you waiting for? Download YOUR copy TODAY!
Tags: upcycling, upcycling crafts, upcycle clothes, upcycle furniture, craft book, upcycle, fashion