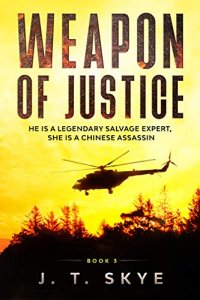 Free on 17th - 21st Nov 23



or borrow free on Kindle Unlimited.
No reviews yet.
Also Available as:

A sitting U. S. Senator secretly plunders strategic oil reserves. The government whistle blower is brutally murdered.
A reluctant hero who is… the weapon of justice.
Billions worth of U. S. strategic oil reserves are secretly plundered from the American stock-pile and the Federal whistle-blower disappears without a trace, the day before he can testify.
The Sikorsky nine passenger helicopter simply vanishes while traveling from Phoenix, Arizona to the Federal Court in San Diego, California.
This key Congressional witness is a Chinese American billionaire and best friend of the Chinese President who demands American action to find his friend NOW, before it is too late.
Legendary salvage expert, Morgan Fox is coerced into leading the search. For him to accomplish his most dangerous mission yet, he desperately needs help.
Not knowing who he can trust, Morgan finds an unlikely ally in the Chinese adviser assigned to watch him and assist with any 'cultural entanglements'.
She is also a licensed assassin in their Special Operations group.
Their progress rapidly disintegrates when they are attacked at every turn by mercenaries from both countries – teams fiercely bent on making sure they don't find the prize or survive the day.
Morgan sifts through the bad intelligence information to use his uncanny sixth sense and keen intuition to discover where the crashed helicopter and bodies are buried.
They use every ounce of skill they have to win the day, to discover the location of the missing whistle-blower in a dark, twist and unexpected outcome.
Grab this book right now so you can experience their journey to find the missing helicopter, the whistle-blower and the unexpected outcome.