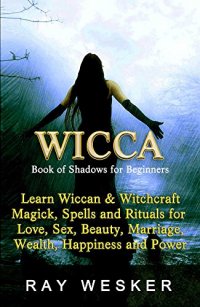 Free on 26th - 29th Apr 15



or borrow free on Kindle Unlimited.
No reviews yet.
Improve Your Relationships and Yourself through the Power of Wiccan Magick!

***Read this book TODAY and start changing your life – Purchase Now!***
No matter how much time you spend working in the mundane world, there is no escaping the fact that you have to do work in the spiritual world as well.
Do you ever come home after a long day at work wishing you could access more power in your life?
This inspiring book will help you understand the correct way to perform rituals and how real witches cast spells. It includes a chapter of spells and instructions for each of these popular categories:
What Will I Learn?
Learn the understanding of Witchcraft ritualsLearn how to correctly perform Wiccan ritualsLearn how real Witches cast spellsLearn spells to change your Love LifeLearn spells to change your Sex LifeLearn spells to improve your Beauty and AttractionLearn spells to improve your MarriageLearn spells to massively increase your WealthLearn spells to improve your Happiness in LifeLearn spells to increase your Power in Life
This book provides many helpful and exciting spells, such as the chain of love spell, the happy marriage spell bag, and the mint prosperity spell.
You'll even find out how to use ingredients like mandrake root, lavender oil, and oak leaves in Wiccan magick and rituals!
Purchase Wicca: Book of Shadows for Beginners – Learn Wiccan Magick,

Spells and Rituals for Love, Sex, Beauty, Marriage, Wealth, Happiness and Power today to find out how to use your magickal powers.
Start realizing the magick of the world around you, and how to focus your powers through ritual. You'll be so glad you did!