Listing on BookAngel:
---
Arunoday (Boundaries Redefined Book 2)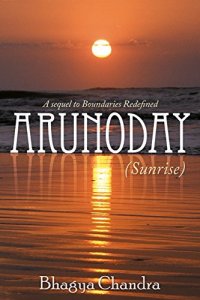 Last Free Dates: 30th Nov 16 to 4th Dec 16
Read More

...Readers of family epics or business intrigues might want to take a look at this. Romance and Women's Fiction readers should probably pick it up....
Kirthi and Aditya have saved their company and are getting married. Happily ever after might be marred as Kirthi is a widow and in India remarriage is frowned on. In the media eye following the turmoil in the corporation, even with the blessing of her former in-laws the happy couple will have a hard time ahead.
This is a sequel to "Boundaries Redefined". It stands alone, and if you haven't read the first book, the first chapter quickly brings you up to speed with the main characters and situation.
Family conflicts, societal disapproval, and the fallout from the scandal keep this a taut and fast-paced read. Events change very quickly – while some characters are discussing events, others have already acted on more up to date news. Threatening phone calls, the aftermath of a brutal assault, and enemies the couple don't even know they have also ratchet the tension up, and the time skip between the two books mean that it literally is in media res: the time for evidence gathering is running out and the enquiry into the company is reaching its peak. Dropped into the middle of the action, it really does pick you up and sweep you along with it.
The relationship between Aditya and Kirthi has to be strong to carry the story, and it manages to be. These are two people who are truly in love, and trying to do the right thing under huge amounts of pressure. A huge part of the book is about Kirthi's awareness of the hard fates of widows that she so narrowly avoided, due to her parents' modern views, and her efforts to improve the situation and the couple's attempts to update the company to ensure employees are all well-treated.
The writing is rather plain, and in places felt a little flat to me, but the story is so strong I didn't care. I just wanted to know what was going to happen next. One of the best things about this book is that there are consequences. Some of the antagonists from the first book have changed sides, but they don't get off scot-free because of it. There are still court cases, enquiries, and reparations to be made for bribery, lies, and criminal actions.
I had no issues with formatting, and although the cover is rather plain (a photo of a sunset) in this case, you really shouldn't judge the book by it. Despite being a long read, at nearly 5000 locs, this book flew by, and there's a lot packed into it. In places it could possibly have done with being longer!
There is a glossary at the end to explain terms that may be unfamiliar to readers outside India, followed by a note about the author and a Table of Contents.
It is an interesting read, particularly for the conflict between traditional and modern values. The only weakness in a packed plot is writing that sometimes felt a little flat. Overall, readers of family epics or business intrigues might want to take a look at this. Romance and Women's Fiction readers should probably pick it up.
Rating:
3
Reviewed by
Reviewed on:
2016-12-13
Review Policy: No compensation is received for reviews. View our Review Policy here.