Listing on BookAngel:
---
The Moonchild (The Soulweaver Series)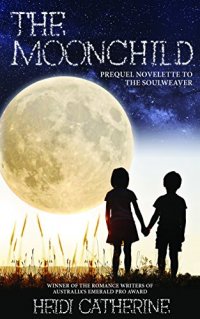 Last Free Dates: 9th Jan 19 to 13th Jan 19
Read More

...Literary readers and Slice of Life or modern drama will find this short story worth reading....
This is that most unusual of things: a prologue novella for a series that is both an intact and complete story in its own right and that brings something new to the characters.
The characters of the Soulweaver book are soul-bonded lovers, meeting each other again and again across a variety of lives. This story tells of one such life before the main book. It is intertwined and tragic, and a very good read. The writing is emotive without being overblown, the story, a slice of life that rings very true, and the plot realistic and sometimes painful to read. It really makes you hope that somewhere in forever there is a Happy Ever After for these two, and that's coming from a reader who does not like romance.
In a way the start of the story reminds me of Bridge to Terebithia: the childhood sections are well-written, and the children are people not caricatures. Like Leslie, Essie loves to run and is one of the fastest children in the class. Unlike Leslie she does not die young – no surprise as this is a romance – but when they are separated because Charlie moves away it sets the scene for reunion twenty years later that is bittersweet at best and something I was unable to put down. The author manages to make this emotional without being maudlin or angsty and while we don't get to know much about Charlie and Essie, anyone who has ever met an old friend after many years will find themselves feeling that reunion.
It does something very rare: makes me want to pick up the main book to read about the adventures of two strangers we never meet in this book: because Charlie and Essie will literally be different people the next time we pick them up again.
Literary readers and Slice of Life or modern drama will find this short story worth reading. Romance fans will like it, and may find themselves buying the next book.
Rating:
4
Reviewed by
Reviewed on:
2017-12-10
Review Policy: No compensation is received for reviews. View our Review Policy here.