Listing on BookAngel:
---
Defeating Depression: A Natural Guide to Overcoming Depression, Fear, and How to Improve Your Quality of Life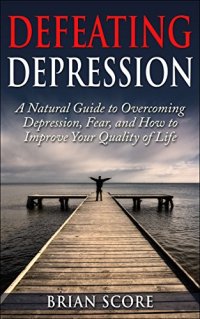 Last Free Dates: 14th Oct 14 to 16th Oct 14
Read More

...it is extremely short (32 pages) and you can find similar articles in far greater detail available freely online......
I picked this book up because a free guide to managing depression would be helpful to many people, and the cover looked professional enough to give me high hopes for the content.
Sadly I can't recommend this book. A lot of this is information that is freely available online, and once again it falls into the trap common to so many self-help books of telling someone what they should do but without suggesting ways to do it. For example, natural remedies are brushed over in 500 words – basically 'they exist, consider trying them' – but lacks any description of what these remedies are, what the common ones used are and how they are expected to work. The other suggestions are similarly brief.
Suggestions like having a good support system are obvious, but what they suggest directly contradicts their earlier statements about routine. There's also a lack of understanding in this text that depression may have more than one cause e.g. laughter may help someone depressed after a sad event, but not someone who's brain simply does not produce the necessary chemicals. In fact, it ignores the fact the latter condition – which is clinical depression – exists.
One of the first things it does is mention "Conventional Treatments – Benefits and Risks" which covers seeing a doctor or psychologist and conventional treatments. It covers this for three paragraphs, out of the entire book. When dealing with a condition that the book itself admits is deadly, this seems unwise.
The writing is simplistic and repetitive. Sentences often repeat the beginning or entire structure of the sentence before, and some of these are in very poor english e.g.
"Nothing can make you feel more worthless quite like depression can."
(should be: "Nothing can make you feel more worthless than depression" or a variant.)
If you suffer from depression, see your doctor and don't rely on an ebook. If you know someone with depression, there are better resources out there to help.
Given that it is extremely short (32 pages), you can find similar articles in far greater detail available freely online (e.g. here), the writing is poor, and the advice is limited, I cannot recommend this book to readers.
Rating:
1
Reviewed by
Reviewed on:
2014-10-15
Review Policy: No compensation is received for reviews. View our Review Policy here.