Listing on BookAngel:
---
Gator Moon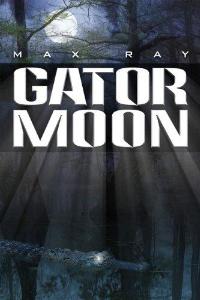 Last Free Dates: 23rd Apr 15 to 27th Apr 15
Read More

...this is a very old school adventure, not a thriller, about the people not the plot, ...
Gator Moon is the story of a small group of people surviving in the Florida Everglades, among animal threats like gators and crocodiles and the far more dangerous human threats that live among them.
Do not buy this book expecting Jaws or similar monster stories. This is a much older style adventure story, not so much a plot-driven thriller as a character study of a group of disaparate people interacting in the everglades. There are no heros or heroines, just complex and fairly detailed individuals with a lot of backstory…
…which means that the blurb is incredibly misleading:
"Sam Duff had his world turned upside down after being beaten to within an inch of his life. Now the woman he loves has been abducted by a crazed murderer and taken deep into the Florida Everglades. As Sam and his loyal pitbull trail them into the River of Grass, they realize they will need every ounce of strength and skill to survive this nightmarish hell."
Gator Moon
By Chapter Six, we have not yet reached this point in the plot.
The plot is not so much about an escaped felon, or a monster gator, or a kidnap, as an amalgam of this things. It lacks focus, a clear protagonist or antagonist since most characters are difficult to like or respect, and doesn't really have a sense of a goal. I'm not even sure what genre I would classify it as – too character-focused to be a thriller, not gory enough for a modern horror, and too dark for contemporary.
I am not sure of Gator Moon's target audience. In the preface, the book states it is aimed at men aged 15 – 55. Given the early rape-multiple murder described, and because the type of detailed character study and large cast are ones that teenagers in general might not really appreciate, I would personally put the lower age band somewhat higher. Threats to family and wife are also things that tend to resonate more with older readers.
The other reason it may appeal to an older crowd is the writing. Written in a much older style, Gator Moon has sharp point-of-view shifts and head-hopping within paragraphs. While I like this, a lot of modern readers don't. There are a few grammar issues – full stops instead of questions marks ("In any event, where in hell was he and why was he here.") and spaces inside words that did distract me while I was reading.
This brings me to the formatting. The problem with this book's formatting is that it has so many nice ideas that would be lovely on paper but just don't quite work in an ebook: e.g. one unfortunate piece of formatting on the title page where the R in Gator is moved down a line on my Kindle (this occurs in several chapter headings as well). The medical chart is an interesting piece of characterisation, but the layout makes it very difficult to read (no one said Kindles display tables well). The start point is a preface, although clicking back will give you the front matter and cover. There's no Chapter by Chapter table of contents, although clicking the Kindle button will give you a Toc with four options.
The thing with the preface is that it discusses the author's problems bringing the book to market, dealing with publisher rejections, and his delight at seeing the ebook. After reading it, I do feel somewhat guilty that I never got into the book.
In conclusion, if I went by the blurb and the categories (for some reason it is listed under "science fiction" in the UK) I would have to give this a one star for failing genre conventions, formatting issues, and misleading advertising. Instead I am going to give it two, say that this is a very old school adventure, not a thriller, about the people not the plot, and strongly suggest reading the Look Inside sample before buying.
Rating:
2
Reviewed by
Reviewed on:
2013-09-01
Review Policy: No compensation is received for reviews. View our Review Policy here.