Listing on BookAngel:
---
Life First: (Dystopian series, book 1)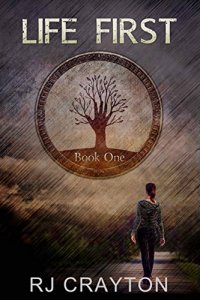 Last Free Dates: 25th Jul 18 to 29th Jul 18
Free Today!
Read More

...YA readers or those who don't mind a rather passive heroine might enjoy it....
Kelsey lives in a society where young people have to donate organs if they match someone on the waiting list. Her number has come up, but rather than donate a kidney, Kelsey chooses a second option: fleeing the country. With the help of her boyfriend and family doctor she tries to get away, and then everything goes wrong…
I found Life First had a major problem: I'd read the Unwind series as well as an early sci-fi story handling the same issue and a Sliders episode and…. Given that in all those stories, a tissue match equalled death, and being asked to only donate a kidney was treated with huge relief and a get-out clause in one of them, it is hard to take her objections seriously.
It is a dystopia and the world-building is interesting as it moves further and further away from what initially seems something close to our own to something with science that is utterly alien, but I just couldn't get into it. Despite the worldbuilding, the lead character just fell flat for me, and as it is written in first person that is a problem.
Kelsey is, when it boils down to it, a passive heroine: she knows what she wants, but she leaves it up to other people to plan and manage for her. Other people plan her initial escape, when she's captured, other people arrange to get her out, and all she does is to go along with it. This isn't a woman who controls her own destiny and she doesn't even seem to care that other people are risking their lives to help her when hers is not at risk. I also really hated one plot point which I don't want to spoil but which really made the 'hero' her boyfriend look like an irresponsible… well, I had little liking left for him after that point (hint: if you might have given your girlfriend an out from something she is terrified of, not telling her because you think it will make her more stressed is stupid).
The characters didn't really appeal. While Kelsey may not have wanted to give up her kidney, she doesn't seem to consider the effects on people around her. Her boyfriend, an allegedly stand-up guy, fails to tell her that contraception failed – even knowing the effects on her organ donation… The whole plot is driven by Kelsey not wanting to donate a kidney, but she wants to do this with no consequences to her and doesn't really care about the effects on her family, friends, etc. She's not a conscientious objector, just rather self-centred , and she doesn't really seem to know much about the society where she lives.
The book club questions at the end actually raise some of these issues, but acknowledging them doesn't make it better for the reader. After that there are details of the next two books, Second Life and Third Life.
For me this is a three, but for anyone not familiar with Neil Shusterman's Unwind series, it might be higher. YA readers or those who don't mind a rather passive heroine might enjoy it.
Rating:
3
Reviewed by
Reviewed on:
2017-04-20
Review Policy: No compensation is received for reviews. View our Review Policy here.