Listing on BookAngel:
---
Murder at the Office: A Mother Daughter Mystery (Cozy and Queer Book 1)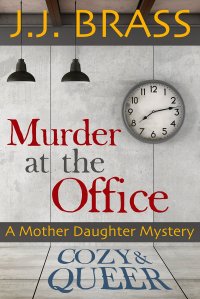 Last Free Dates: 12th Jan 17 to 16th Jan 17
Read More

...A fun cozy mystery for an afternoon's read, that keeps an itch scratched for another hour....
Sharon is a divorcee working for an unforgiving boss, Min. Surprised by the arrival of her estranged daughter to her office, she finds out the only reason, Kate has come is to borrow her office photocopier to make posters for her band. Waiting until after everyone has left to make the copies, Sharon and Kate find that Min has been murdered on the body left in the office. Then they find that the office is locked up and someone is stalking around them. Can mother and daughter put aside their differences and survive the night before the murderer strikes again and makes sure all the witnesses have been eliminated.
Murder at the Office is a fairly simple one-shot cozy mystery, that sets the scene and neatly resolves it in a neat bundle while still leaving it open for the main characters to have further adventures. The interplay between them is realistic highlighting the differences betweeen the ages and the way their lives had moved in different directions. The murder plot is short and simple with enough clues scattered around for more astute readers to pick up.
The writing was as descriptive as it needed to be, but the pace of the story still felt slightly slow, although this wasn't helped by the spacing between the lines padding the story out.
Strangely enough, this was also advertised as a queer cozy mystery, but to be honest, it didn't really play any part of it until the very end and even then it seemed a little tacked on as if to justify why it was there and what it meant to the main characters.
Overall, this was a fun afternoon's read, that keeps an itch scratched for another hour.
Rating:
3
Reviewed by
Reviewed on:
2017-01-28
Review Policy: No compensation is received for reviews. View our Review Policy here.