Listing on BookAngel:
---
The Adventures Of Reggie The Flying Squirrel, "It's Not Always Scary In The Dark"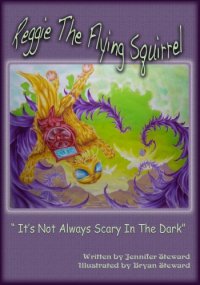 Last Free Dates: 26th Sep 14 to 28th Sep 14
Read More

...A well-crafted picture story of a flying squirrel overcoming his fear of the dark....
Reggie is a squirrel that flies with the aid of a solar backpack. When the sun is covered by a storm, he finds himself crashing into an unknown cave. Although scared of the dark, he meets someone underground who can help him along through the caves and out the other side to where the sun is shining again. As well as making a new friend, Reggie also begins to understand that he doesn't need to be afraid of the dark.
This is a short children's story, with each page containing a wonderfully detailed picture and associated story text, instead of being a standard story or being in comic book format. Even though I was reading on a Kindle in black and white the images are quite striking, and are delightful in colour if you are fortunate enough to have a colour display. The story itself may be simple but is well structured with no errors, although I was enjoying the pictures enough not to notice.
I would happily recommend this for anyone looking for a good children's bedtime story. The story may be simple, but has a good moral for anyone reading it, regardless of age.
Rating:
4
Reviewed by
Reviewed on:
2014-09-30
Review Policy: No compensation is received for reviews. View our Review Policy here.