Listing on BookAngel:
---
The Butterfly - A Short Story of Life, Mystery, and the Impossibility of Endings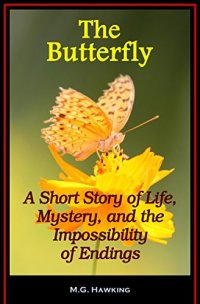 Last Free Dates: 24th Aug 21 to 27th Aug 21
Read More

......
A man watches a butterfly fluttering around a room and ponders the meaning of life.
Strangely enough this is a very short story in a book, which his more filled with ideas and details of other stories and authors that have similar works. Consider this more of an advertisement piece instead., The story appears about a quarter of the way through the book and is as brief as the butterfly's existence in the story. Then it goes back to further explanations and advertising of its stories and points of view in the hope you may consider more.
This book is very much about getting a feel for the studio from whence it came and there are also excerpts from other stories to read. If you like the story and the ideas behind it, then it will have done its work.  However, for me, I was expecting a longer story.
Rating:
Unrated
Reviewed by
Reviewed on:
2019-04-08
Review Policy: No compensation is received for reviews. View our Review Policy here.