Listing on BookAngel:
---
The Sleeping Ones: A Post-Viral Apocalyptic Short Story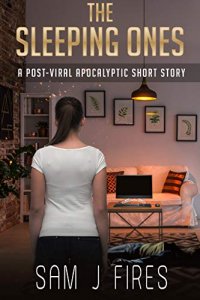 Last Free Dates: 13th Oct 21 to 15th Oct 21
Free Today!
Read More

...A clever, relevant, short for this day and age....
Alone in her house in London, Sally Jones has no-one for company other than the decomposing body of her mother. Then, she makes a connection to three other people through her laptop, a video conference of three other people around the world. All of them are facing life during a pandemic that has wiped out over half the population of the world leaving them to try and survive. Jessica Sullivan has lost her husband to the pandemic in Brisbane, while Danika Patrick is alone in Las Vegas while her husband, Patrick Bowen, is trying to stay alive in Seattle. Between them, they try to make a connection to each other and sort out what they may do next. And then the connection starts to go leaving them alone, but knowing there is still life and hope out there.
This is short story set a year into the future in a world of a more deadly pandemic, so feeling very relevant to the world today. As a short, it sets up the world quickly, only giving hints and glimpses of how bad it is by how it has affected the characters and how they are trying to survive. The same goes for the characters, briefly fleshed out but different enough to see the changing viewpoints and how they interact with each other. The flashes of their backgrounds are ripe for further tales to be written and you are left hooked wondering if they will be able to overcome the trials and challenges they have set themselves.
The only downside is that there is some unfortunate head hopping between the characters as the viewpoints change from sentence to sentence instead of staying consistently from one viewpoint. Other than that the formatting and spelling are fine, I didn't notice anything to take me out of the story.
A clever, relevant, short for this day and age. Providing some hope amongst the despair and which has the potential for more stories following these characters.
Rating:
4
Reviewed by
Reviewed on:
2021-01-08
Review Policy: No compensation is received for reviews. View our Review Policy here.