Listing on BookAngel:
---
Mars Glow: Aera Cura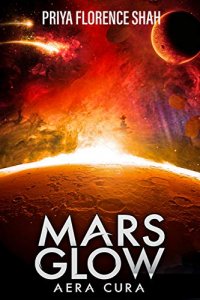 Last Free on: 12th Feb 21
Free Today!
Read More

...One for fans of the genre, if you enjoy the writing and the premise, then it will be worth following...
Born on Mars, Mara spends her days overseeing the robots used to farm water and water from the Red Planet while wondering what her life is for. A chance encounter with Astar Blackburn, whose grandfather was a major explorer of Mars, leads her to sign up for a new adventure. Meanwhile Astar is planning to free Mars from the oversight of the Earth Council and allow Mars to rule itself. Enlisting the aid of scientific prodigy, Dr. Lathrop, he looks to construct weapons and armour to facilitate the rebellion. Following this Mara is sent to Earth with several other Martians to make contact with sympathisers as the struggle begins.
The first in a series of sci-fi books, this is an intro to the main characters and sets the scene for the story. The plot is split between the events on Earth and Mars following both those for and against the rebellion. Those expecting action will have to wait for future books as this takes a slower pace to introduce us to the characters and what they are aiming for. Unfortunately, I didn't find the characters to be that relatable. They range from the idealistic to the hyper-intelligent and they have yet to really spark as to what kind of person they are. We have a good understanding of their ideas and dreams, but are only given a glimpse of what they might be capable of.
The writing was enjoyable, descriptive of the scenes and doing it's best to bring the characters to life. The situations they find themselves in are being set up and as yet there are no consequences to the actions they are taking. This is very much a taster for the series, if you enjoy the writing and the situation, then it will be worth following.
Rating:
3
Reviewed by
Reviewed on:
2021-01-21
Review Policy: No compensation is received for reviews. View our Review Policy here.