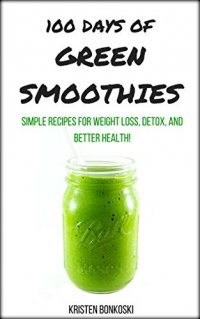 Free on 8th - 11th Dec 15



or borrow free on Kindle Unlimited.
No reviews yet.
Are you sick and tired of being sick and tired? Have you tried all kinds of gimmicky diets and still can't seem to shed the pounds for good? Do you know you need to eat healthier, but don't know where to start?
100 Days of Green Smoothies provides recipes, shopping lists, and tips and tricks to improve your health for good. Whether you are looking to lose 50 pounds, boost your immune system, or prevent cancer and heart disease, this book can help.
Most of us eat diets loaded with refined carbs, added sugar, and processed foods. It's just the norm in our society! Unfortunately, these food choices lead to all kinds of problems including:
o Obesity

o Low energy levels

o Depression and anxiety

o Cancer

o Heart disease

o Chronic illnesses
Even if you are suffering from any of these health issues today, a poor diet can quite literally kill you down the road!
Fortunately, a diet high in fruits, vegetables, and other super-foods can reverse and prevent many diseases. If you increase you intake of these foods you will lose weight, cleanse your body of toxins, and feel better overall. I know firsthand! After suffering from several life-threatening health conditions, I turned my life around by changing my diet.
100 Days of Green Smoothies challenges you to drink one green smoothie a day for 100 days. Our green smoothie recipes pack multiple serving of fruits, vegetables, and other super-foods into one quick and easy drink. We make the transition to a healthier life super easy by providing 100 green smoothie recipes, weekly shopping lists, and lots of tips and tricks.
Inside this book you'll find:
o 100 Green Smoothie Recipes

o Weekly Shopping Lists

o Health benefits of Green Smoothies

o Nutritional Benefits of Key Ingredients

o The "Green Smoothie Formula"

o The Best Blenders and Tools

o Super-Food Add-Ins

o Protein Add-Ins

o Much more

o PLUS FREE BONUS DOWNLOADS!